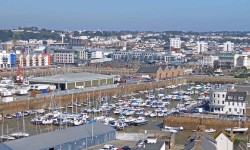 About the Commission
About the Jersey Gambling Commission
The Jersey Gambling Commission is responsible for the regulation of gambling in the Island. We have responsibility for all commercial and charitable gambling, with the exception of the Channel Islands Lottery, which is administered directly by the Government of Jersey.
The Jersey Gambling Commission was created by the Gambling Commission (Jersey) Law 2010, which came into force on 3rd September 2010. It transferred all responsibilities for licensing, registration and regulation of gambling prescribed as the duty of the minister, the former Licensing Assembly or other States bodies to the new authority.
The Commission's offices are located at:
Jersey Gambling Commission
4th Floor, Osprey House
5-7 Old Street
St Helier
Jersey
JE2 3RG
Our offices are open 9am to 5pm Monday to Friday (excluding public/bank holidays).
Alternatively, you can reach us by phone on 01534 828540 or by email at info@jgc.je.

6
Remote Gambling Operators
Our Social Responsibility
The Jersey Gambling Commission has a duty under the law to: protect children and other vulnerable persons from addiction to gambling and from other forms of harm associated with gambling; make assistance available to persons who are or may be affected by problems related to excessive gambling; and to otherwise avoid and reduce problems related to gambling.
Social Responsibility