Land-Based Commercial Gambling
Land-Based Commercial Gambling Resources
Commercial gambling is defined in the Law as a business which contracts directly with a customer and for profit.
Aside from remote gambling licences, the Commission provides licences for bookmakers, promotional prize lotteries, gambling machine operators, thrift clubs, machine suppliers, crown & anchor operators, and amusements with prizes. We also licence Jersey's only race track and provide personal gambling licences.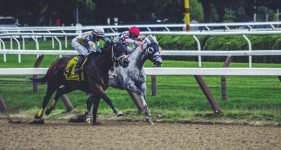 1
Licensed Jersey race track
29
Licensed thrift clubs in Jersey
Our Social Responsibility
The Jersey Gambling Commission has a duty under the law to: protect children and other vulnerable persons from addiction to gambling and from other forms of harm associated with gambling; make assistance available to persons who are or may be affected by problems related to excessive gambling; and to otherwise avoid and reduce problems related to gambling.
Social Responsibility